The biotech companies are having difficulties in terms of stock prices, initially driven by rising interest rates and energy prices, and in terms of the uncertainty in the financial markets, which is increasing in step with the escalation of the war between Russia and Ukraine.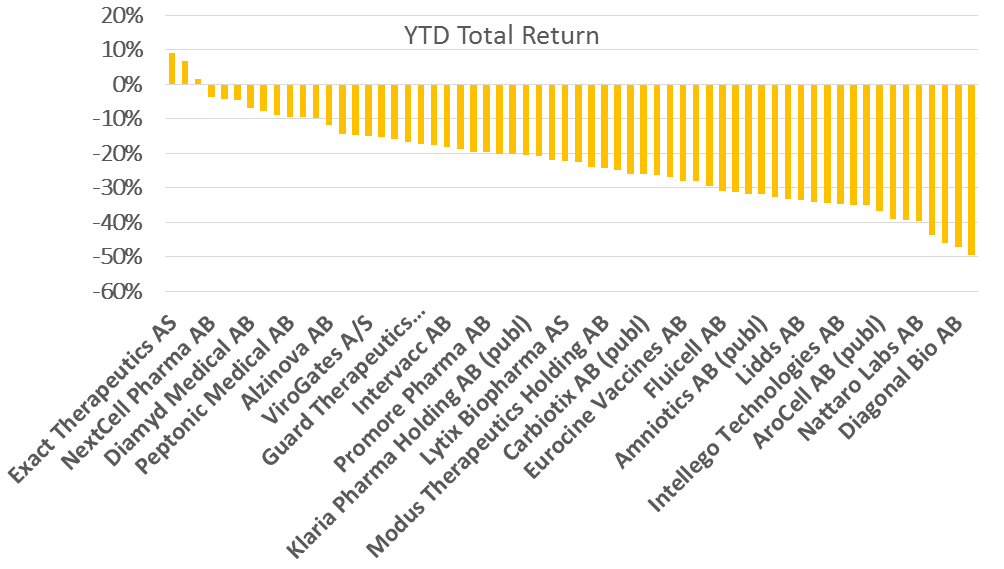 The rising interest rate is harming the valuation of the companies, as the value creation of the companies often is far in the future and thus discounted with a higher interest rate, resulting in a lower present value.
The insecurity driven by the war causes investors to flee from the more risky stocks, such as biotech, to more defensive stocks. This pushes the stock prices down. Finally, many biotech companies are dependent on raising new capital e.g. to finance further development of the pipeline, which is difficult in the current markets, contributing to the negative trend around the companies. As a result, i.a. value-creating news flow for many companies is not rightfully reflected in the stock price.
Nevertheless, we do not consider that, as an investor in the current situation, one should refrain entirely from investing in biotech as part of a diversified portfolio. We estimate that many biotech companies after the price drops are attractively priced in relation to their potential. Naturally, there is a timing issue in when to invest as an investor. It can clearly be difficult to answer, as they depend on the outcomes of a number of unknown factors, investment horizons and risk aversion.
One of the parameters that the investor could choose to look for in the selection of biotech stocks is upcoming news flow. This is important as the news flow often either can validate a product or a technology and thus reduce the overall company-specific risk, bring a product closer to the market, expand existing potential or confirm the investment case. We recently addressed a number of interesting companies in our post – If you are interested in companies with forthcoming price triggers – then you should look here. https://kapitalpartner.dk/er-du-interesseret-i-selskaber-med-naertstaaende-kurs-triggers-saa-skal-du-kigge-her/
In this post, we highlight the following companies with interesting news flows. However, the list is not exhaustive.
Ascelia Phama
Bavarian Nordic
Curasight
Evaxion Biotech
Fluoguide
Scandion Oncology