Business model
Mdundo's business model consists of revenues from advertising and secondarily from subscription payments charged by telecom companies. The model is thus similar to, for example, the business model of Spotify and Asian streaming services, where the user is either advertising-funded through audio commercials or pays an ongoing subscription. Significant factors for Mdundo's investment case are therefore the number of users, advertising sales and paying subscribers (primarily through agreements with telecom companies). Revenue in 2020/21 was DKK 2.3 million, which increased to DKK 7.2 million in 2021/22 and is expected to increase to a further DKK 13-16 million in 2022/2023, including from annual advertising agreements.
From December 2021 to December 2022, the number of monthly active users (MAU) on Mdundo's platform increased from 13.3 million to 23.4 million, corresponding to a growth of 76%. The company has a target of more than 50 million users by 2025.
MAU 2015/16 – 2021/22E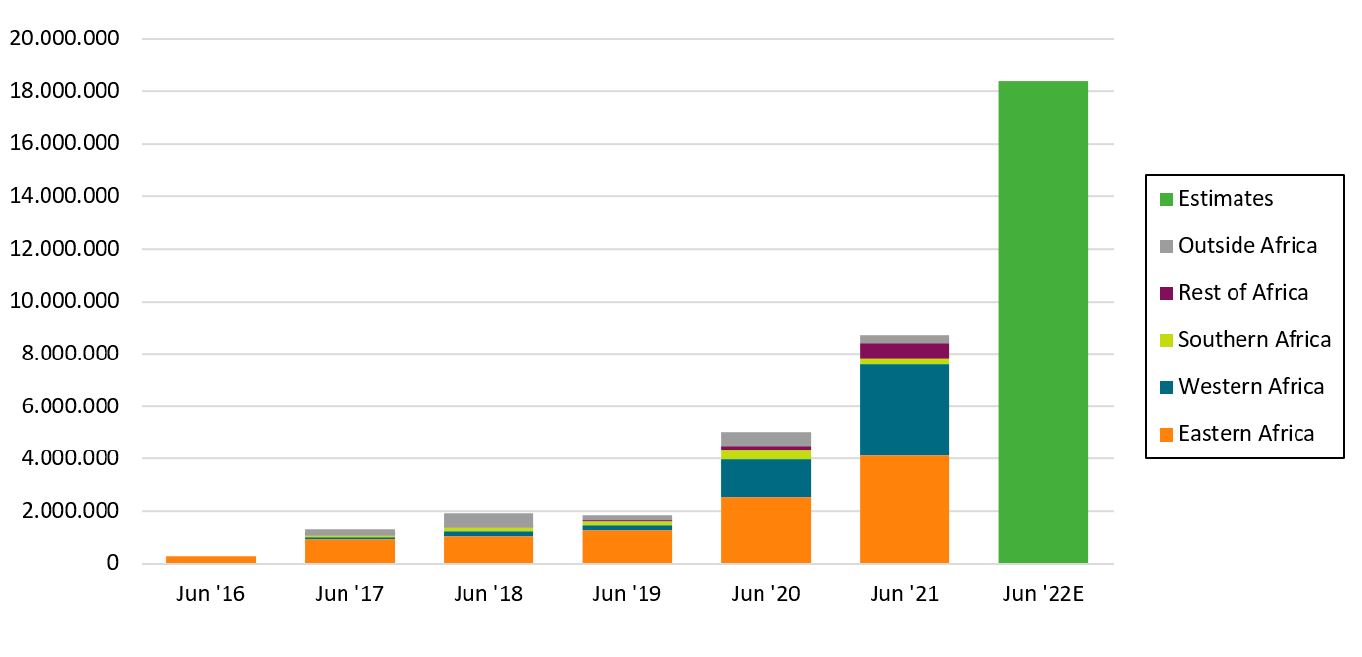 An essential part of the investment case is how many telecom subscribers will become paying users of Mdundo and the number of agreements with telecom companies. Mdundo has signed agreements with the telecommunications companies: Vodacom Tanzania, Airtel Nigeria and MTN in Nigeria, Ghana and South Africa, which together have over 185 million subscribers. The partnerships will enable the telecom provider's customers to subscribe to Mdundo music packages. Mdundo expects subscription-based revenues from these agreements to account for 40% of total revenues within a few years.
Mdundo has signed deals directly with more than 140,000 African artists, which is a competitive advantage as 80% of the music listened to in Africa is African music. In addition, it reduces costs as royalty payments are made directly to the musicians instead of paying royalties to international record labels, for example.