Within Life Science and biotech companies, upcoming news flow in the form of price triggers is important for the development of the share price. This is because it is often in the news flow that you as an investor get clarifiction on the future potential of the investment case, which plays a crucial role in the valuation of these companies. Conversely, none or limited news flow from a biotech company often means that the stock price is leaking.
We have found 6 companies that stand out by either having several smaller stock price triggers or at least having one game-changing event that can seriously transform the company. The selected companies are: Ascelia Pharma, Bavarian Nordic, Curasight, Evaxion Biotech, Fluoguide and Scandion Oncology.
Coming stock price triggers in 2022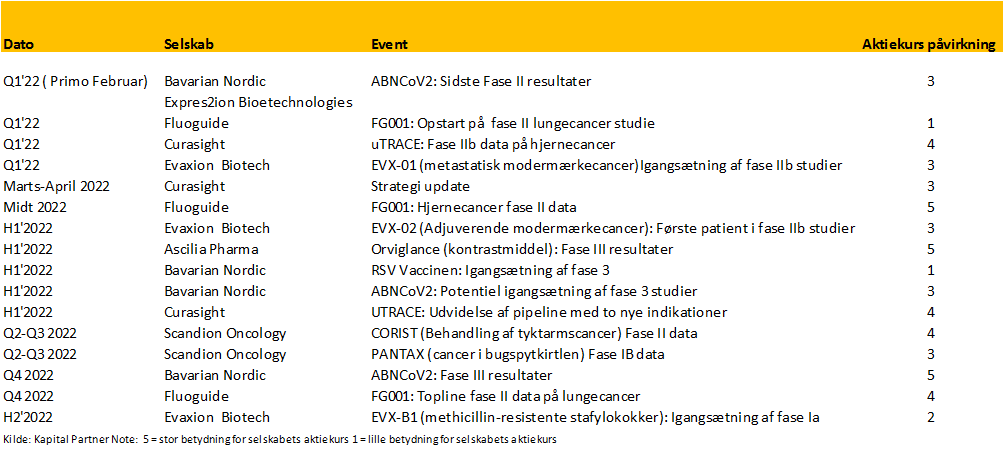 Ascelia Pharma
The company's most valuable product is called Orviglance, which is the first contrast agent in development for use in MRI scans of the liver in adults with severe renal impairment (~4% of the market) and is around USD 500-600 million a year. These patients are at risk of developing the severe and potentially fatal condition nephrogenic systemic fibrosis (NSF), if they use the gadolinium-based contrast agents currently available in the market. Orviglance aims to improve the detection and visualization of focal liver lesions (including liver metastases and primary tumors). Thus, we assess that there is a very interesting market for Orviglance and look forward with increasing optimism to the publication of the Phase 3 results for Orviglance in H1'2022.
The stock price has been upwind in 2021 and is in the past year down by approx. 46%. We expect that this is driven by a combination of poor market sentiment around growth shares, capital increase and delay in recruitment of SPARKLE by up to 6 months due to the Covid-19 pandemic. However, the company has a solid cash portfolio extending well into 2023.
Ascelia Pharma share price development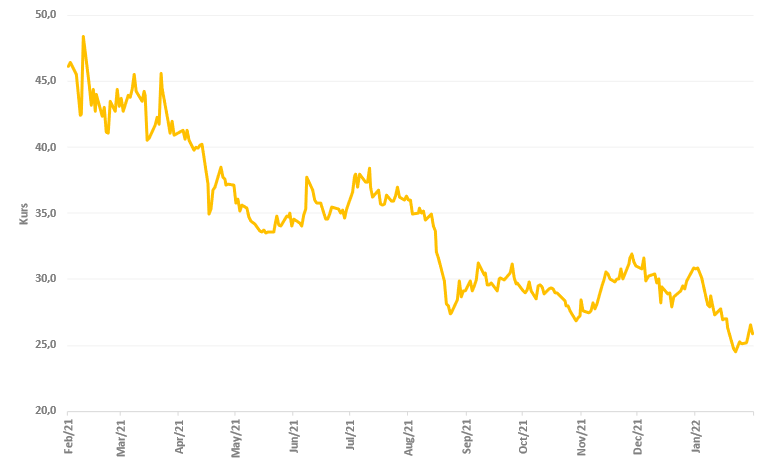 Bavarian Nordic
As early as the beginning of February, we are expected to receive the latest phase II data from the corona vaccine for the non-vaccinated, who are on a lower dose (50 mcg) and who in Phase I already have shown a positive effect. This may have implications for the design of the Phase III study.
For Bavarian Nordic, it will be positive if the vaccine also shows a plateau effect of 50mcg in the full Phase II, as it will be able to halve the production costs and double the vaccine output compared to the dose of 100mcg used in the preliminary Phase II data. In addition, in early 2022, ABNCoV2 will be tested against the omicron variant with the aim of assessing whether vaccination with ABNCoV2 produces antibodies against that variant as well.
The stock continues to be in massive headwinds despite positive Phase II results for the corona vaccine ABNCoV2, which paves the way for further progress in Phase III and ensured a successful capital increase for use in initiating Phase III studies with the RSV vaccine. According to our assessment, these events bring Bavarian Nordic into a historic position with two fully funded Phase 3 projects, which will be rolled out in therapy areas (corona and RSV) with multi blockbuster potential (revenue of at least USD 1 billion). Taken in isolation, we believe that these events should all have had a positive impact on the share price. When the share has dropped anyway, it is in our opinion due to a combination of more risk-averse investors as a result of rising interest rates and fears that Bavarain Nordic has entered the market too late with its Covid19 vaccine. However, we do not share this concern, as ABNCoV2 can be converted to new variants just as quickly as the other commercial vaccines. Bavarian Nordic has always wanted to position ABNCoV2 as a vaccine for the persistent market just like a flu vaccine rather than a pandemic vaccine. Thus, we continue to see a need for the ABNCoV2 vaccine and expect a positive price response on top of the upcoming news from the pipeline while continuing solid data.
Bavarian Nordic stock price development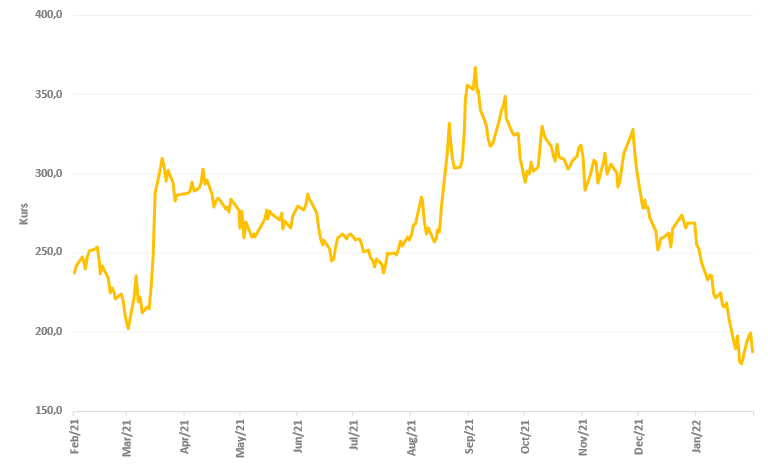 Curasight
Curasight is a Phase II clinical company with a technology built around the uPAR receptor, which is a biomarker expressed in most solid cancers. Curasight operates in the diagnosis and treatment of various cancers. The company has developed a radiopharmaceutical platform that can be used both for diagnosis and for the treatment of cancer: uTRACE – used for cancer diagnosis has been used in more than 400 patients in a number of completed and ongoing investigator-initiated Phase II clinical trials; and uTREAT – which has been successfully used in the treatment of cancer in translational studies.
Within the next 3 months we look forward to 3 price triggers:
Phase II data for uTRACE in brain cancer
New uTRACE indication in head and neck cancer
New uTRACE indication in euroendocrine tumors
In 2021, the share has been upwind, just like most growth shares driven by sector rotation as a result of expectations of rising interest rates. We expect these events to have a positive price effect, as they should partly increase the value of Curasight and partly reduce the risk in the company. See our full investment case here: https://kapitalpartner.dk/curasight/
Curasight stock price development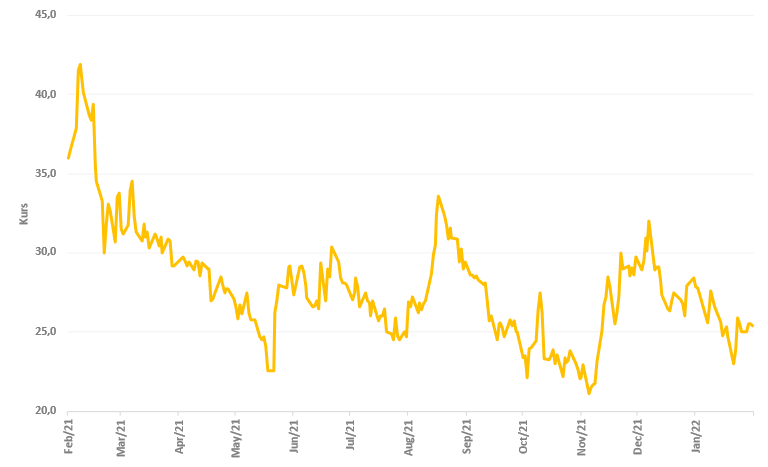 Evaxion Biotech
Evaxion Biotech is a Danish biotherapeutic company listed in the USA, which uses AI-based platforms to develop immunotherapies for the treatment of cancer (PIONEER platform) and infectious diseases, including bacterial (EDEN platform) and viral (RAVEN platform). Promising data from the two ongoing clinical programs EVX-01 (treatment of metastatic melanoma) and EVX-02 (treatment of adjuvant melanoma) will, in our assessment, pave the way for further catalysts in the short term.
Throughout most of 2021, the Evaxion stock has underperformed like the rest of the biotech sector and is p.t. down by approx. 58% for the year. We estimate that the decline can largely be attributed to the sector rotation due to COVID-19, which has led many generalist investors to shift their focus from growth and biotech to value and consumer-oriented stocks.
But in the same period we have i.a. also seen impressive data in metastatic breast cancer from the company's largest asset EVX-01, where we witnessed an objective response rate (ORR) of 67%, and good data from EVX-02, just as the company's technology has been validated through a partnership agreement with Merck. Taken in isolation, we believe that these events should all have had a positive impact on the share price. A closer look at the industry peers also shows that the peers trade at significantly higher prices, which indicates that the Evaxion should have a higher relative valuation. At the same time, we see significant upside to the current share price due to the expected label expansion of EVX-01 and EVX-02 into more solid cancer tumors such as NSCLC (not small cell lung cancer) and in bladder cancer. We therefore expect a strong comeback to the stock in 2022
See our full investment case here: https://kapitalpartner.dk/evaxion-biotech/
Evaxion Biotech stock price development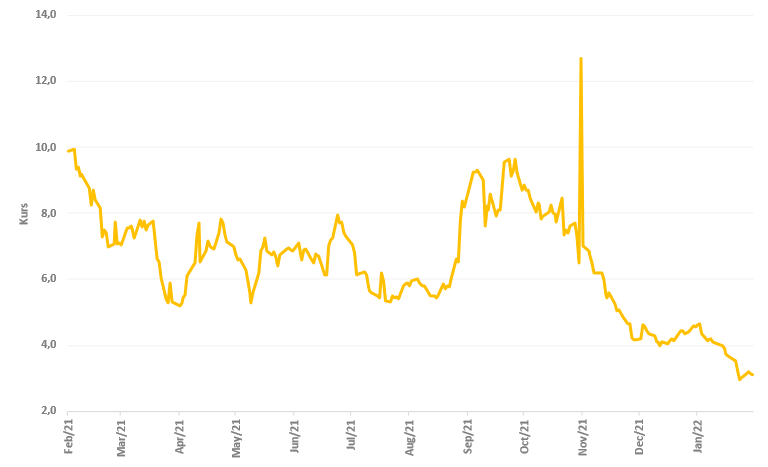 Fluoguide
Fluoguide has developed a drug that makes cancer cells luminescent during surgeries. It should help surgeons perform more precise surgeries so they do not operate on healthy cells or overlook tumor tissues that should have been removed during the surgery. The company's largest asset is called FG001, which is expected to hit the market in 2025, is being studied in phase 1/2 against glioblastoma, which is an aggressive form of brain cancer with poor prognosis, with a market size of USD 300 million.
Fluoguide has just announced that in the beginning of 2022, the company will begin Phase 2 studies with FG001 against NSCLC (Non-small cell lung cancer) with a market size of approx. USD 700 million. Fluoguide also plans to start clinical Phase 2 studies with FG001 in breast cancer with a market size of approx. USD 3 billion i H1'2022. These indications will thus significantly increase the patient population. We estimate that FG001 has blockbuster potential (sales of more than USD 1 billion) if it succeeds in establishing FG001 in several cancer types.
Like most other growth stocks, the Fluouide stock has been in price headwinds, probably driven by a slightly worse market mood around growth stocks due to rising interest rates and the capital increase in May 2021. We expect a strong news flow in 2022, where progress in the pipeline, in our opinion, could provide a renewed upside to the current share price. In our opinion, the next major price trigger will be mid-2022, when Phase II data on brain cancer are expected.
Fluoguide stock price development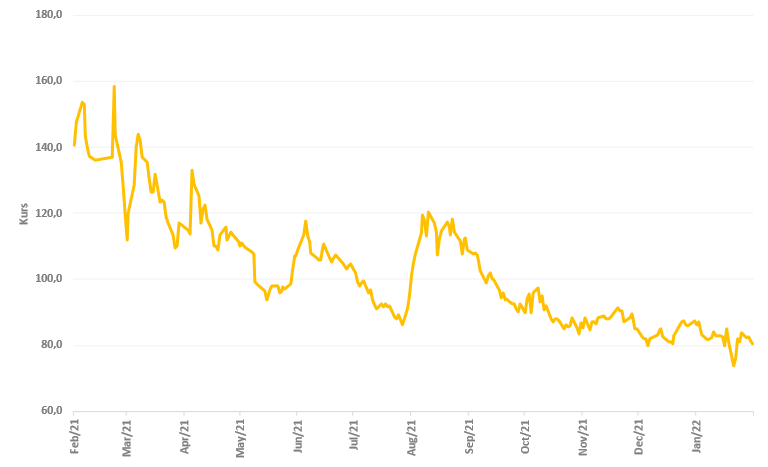 Scandion Oncology
Scandion Oncology is a Phase II clinical company that addresses resistance in cancer treatment that causes 90% of all cancer deaths. The market for chemotherapy is expected to reach a market value of USD 74 billion in 2027. Most cancer patients respond to the treatment with chemotherapy, but many patients develop resistance and as a result no longer benefit from the treatment. The company's key product SCO-01 is a tablet treatment to be taken with chemotherapy to counteract resistance in the treatment of metastatic colon cancer in the CORIST program (Phase II) and the treatment of non-operative or metastatic pancreatic cancer in the PANTAX program (Phase I). We estimate that SCO-101 has blockbuster potential (revenue of at least USD 1 billion).
The stock has been traded down after the immediate price peaks in 2020, which were pulled by positive news from the company's pipeline. The stock dropped in early 2021 due to the sector rotation due to covid19, which led many generalist investors to shift their focus from growth and biotech to value and consumer-oriented stocks. The share has since traded at a fixed level around DKK 20. We expect that the upcoming price triggers in the form of data readouts from the two programs during 2022 will once again increase the share price.
Scandion Oncology stock price development