Mdundo's H1 results (July – December 2022) showed continued high growth across all KPIs with 23.4 million active users, 500,000 music tracks on Mdundo's own platform, revenue growth of 160% and revenue from paying users of DKK 2.1 million. Despite this growth, the company remains financially solid. The investment case therefore remains intact for Africa's answer to Spotify.
Mdundo A/S: Ticker MDUNDO | Price: 6,72 DKK | Market Cap.: 69 MDKK | YTD share price development: 2%
Mdundo is a music service similar to Spotify, but focused solely on the sub-Saharan African market. Mdundo is Danish-led with operational headquarters in Kenya, but developed 100% according to African consumer needs and wishes. The company had 23.4 million active users at the end of 2022.
In the half year July-December 2022, Mdundo showed continued growth with revenue growth y/y of 180% to DKK 6.4m. Revenue growth was driven by ad sales growth of 89% and premium user payments growth of 508%. The company is thus staying the course and expects for the year 2022/23 a revenue of DKK 13-16m, corresponding to a growth of 100% compared to last year.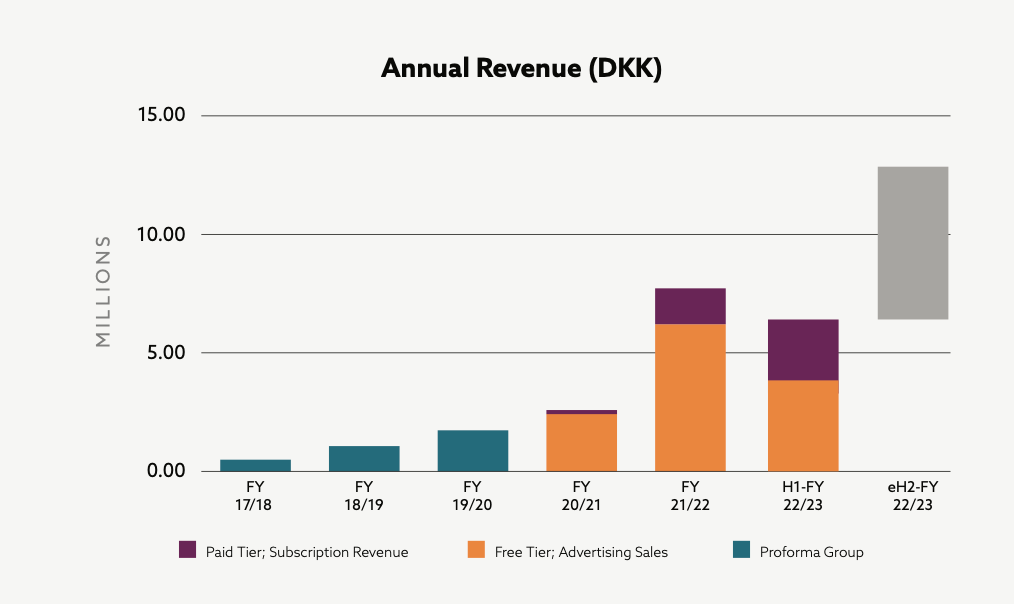 The number of active users reached 23.4 million at the end of 2022. Mdundo expects the growth to continue and that the target of 50 million active users will still be reached in 2025.