Nordic growth exchanges lost ground in 2022 compared to large cap, but again emerging markets hosted spectacular returns for individual stocks. The overall sharp fall in valuations on growth exchanges offers obvious opportunities to buy stocks at attractive valuations, but even among the 10 best-performing Nordic growth stocks, good returns are in store. We take a closer look at them here.
2022 was a tough year for equity investors everywhere. Typically, the decline was more pronounced in riskier stocks, including growth, small cap and healthcare stocks. Thus, stocks on the Nordic growth exchanges produced significantly worse returns than large caps, which made it through the year without major scares. This is illustrated by the fact that the Kapital Partners stock index for the Nordic growth exchanges ended the year down 44%, the Thomson-Reuters Venture index fell 55%, while the C25 index and the S30 index fell 14-16%.
Development of the KPNGX index vs. the Thomson-Reuters Venture index, the C25 index and the S30 index in 2022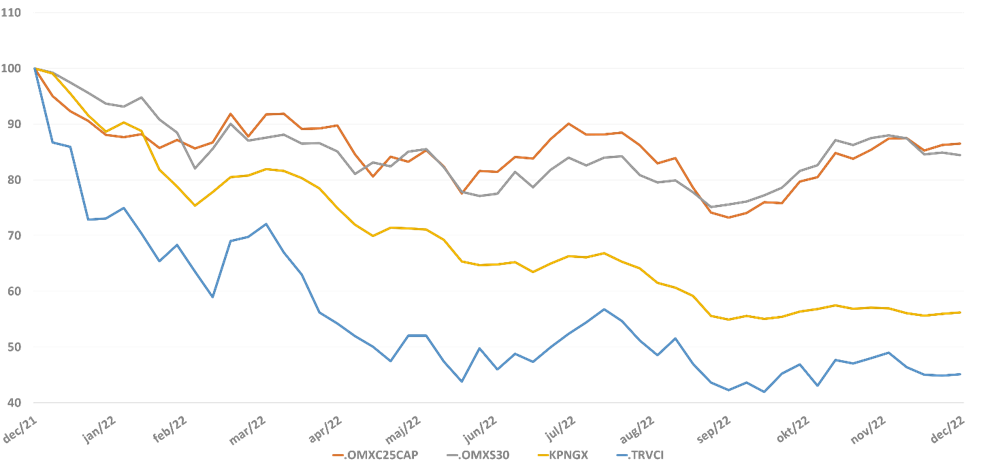 Continued stock-picking territory
The fourth quarter of 2020 showed gains for large caps, while the quarter for growth and venture stocks was flat. It remains too early to believe in a general positive market trend, including especially for small cap stocks, which are typically late-cyclical relative to a recovery. Good returns should therefore continue to be found through stock-picking.
109% – 765% in returns – and Danes in between
Although 2022's top growth stocks had significantly lower returns than in 2021, the top 10 stocks had returns between 109% and as high as 765%. Although most of the stocks on the growth exchanges are Swedish companies, the top 10 included three Danish companies. The top performers were from the energy sector, but the top-10 also included the now much maligned tech companies.
Although stocks have already delivered good returns, we have found some in which we see further potential.
Overview of the 10 best performing stocks on the Nordic growth exchanges in 2022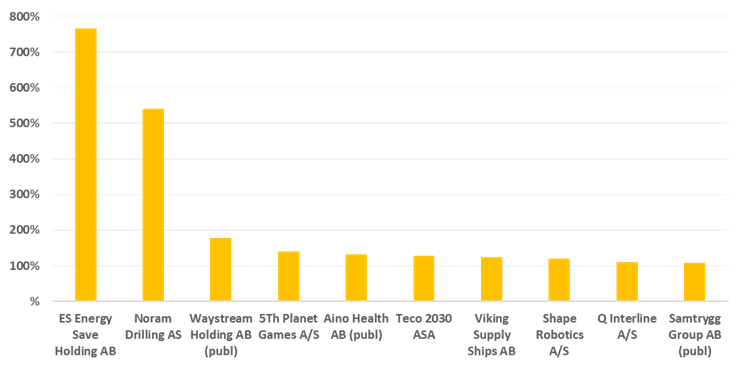 ES Energy Save Holding AB (765%) specialises in the development of heat pump technology. The products and associated systems are used, among other things, for heating residential homes and large commercial buildings. In a year of high electricity prices, heat pumps have proved to be a good investment. The company has a market value of SEK 1358 million.
Noram Drilling AS (541%) owns and operates a portfolio of eleven advanced drilling rigs upgraded to maximize drilling efficiency in the Permian Basin in Texas, the largest oil producing area in North America. The company has thus benefited from high oil prices. The company has a market capitalisation of MNOK 2450.
Waystream Holding AB (178%) operates in the telecommunications industry and sells, for example, switches and routers adapted to the fibre market, which help telecom operators to offer fast service. In addition, the company also owns fibre networks. The company has a market capitalisation of SEK 591 million.
5th Planet Games A/S (132%) develops mobile games. The company is listed in Norway and based in Copenhagen. 5th Planet Games works with IP titles such as Tintin's Adventures and LEGO as well as sports brands such as Cristiano Ronaldo. In addition, the company has its own IP title, Hugo. The company received in 2022 an investment from Skybound Entertainment of 66 MDKK. The company has a market capitalisation of MNOK 487.
Aino Health (132%) provides software solutions for enterprise health management. The company's services reduce absenteeism, increase productivity and employee engagement by making health an integral part of daily work. The company has a market capitalisation of SEK 56 million.
Teco 2030 ASA (129%) operates in the maritime sector. The company's products include exhaust gas purification systems, water purification systems and environmental purification systems. The company has a market capitalisation of MNOK 1839.
Viking Supply Ships AB (124%) is a leading provider of offshore and icebreaking services with operations primarily in the Arctic regions. The company also operates 5 Swedish state-owned icebreakers. The company has a market capitalisation of SEK 1069 million.
Shape Robotics A/S (120%) is a Danish company that has developed a modular robotic platform used for educational purposes. The products are sold under its own brand and customers can either buy ready-made robots or build their own. The company has a market capitalisation of 265 MDKK.
Q Interline A/S (109%) is a Danish company that develops analytical solutions and measurement equipment used in process and product analysis. Its customers are in the food, pharmaceutical and agricultural industries. The company has a market capitalisation of 109 MDKK.
Samtrygg Group AB (109%) operates a platform for subletting of housing. Samtrygg provides, among other things, digital contracts and checks credit ratings and addresses. It also offers additional services such as final cleaning. The business idea is to simplify subletting and reduce the risk of fraud. The company has a market capitalisation of 50
Here, the high returns may (perhaps) continue
Samtrygg Group AB is a marketplace for housing rentals, where the company acts as an intermediary to, among other things, avoid fraud. Samtrygg receives approximately 15% of rental income and from Q1-Q3 2022, SEK 202 million flowed through the company's marketplace from Q1-Q3 2022, of which SEK 31 million went to Samtrygg with a growth of 66% compared to Q1-Q3 2021. Likewise, the company is making money albeit only 845. 000 SEK in Q1-Q3 2022. The company is interesting due to the low valuation of 50 MSEK compared to the turnover on the platform as well as the strong network effects built on the platform when both landlords and tenants are gathered in one place. A strong market position allows the company to increase various fees in connection with the platform. rentals, which can ultimately result in increased earnings.
Development of Samtrygg Group AB in 2022

Energy Save Holding AB offers cost-effective heat pump systems for both private homes and larger commercial buildings with the aim of saving energy. Energy Save Holding reported sales of SEK 109 million in the latest quarter, with growth of 255% compared to the same quarter in 2021. At the same time, the company delivered solid earnings of SEK 16 million in the quarter, and has a comparative valuation of SEK 1358 million. The company is in a market with structural growth. There are currently around 17 million heat pumps installed in the EU, which is expected to rise to 60 million by 2030. The company itself believes that it can even grow faster than the market and thereby take market share. The interesting thing about Energy Save Holding AB is that it is in a strong growth phase, is managing to make money and at the same time has the prospect of continuing its strong growth in the coming years.
Energy Save Holding AB in 2022