Kapital Parter is a corporate finance and investment banking boutique. We primarily assist companies and company owners with advice, capital or transaction assistance. In addition, we assist publicly traded companies increasing the stock market's awareness of the company through investor relations and market relations services.
FINANCIAL AND STRATEGIC ADVICE
We advise i.a. about M&A, capital structure, capital sourcing, handling offers to buy, sell, or invest in the company, IPO, valuation, strategy, financing processes, etc. Our advice can constitute an independent service, form a decision for future process, or e.g. consist of independent counseling.
We advise on and carry out stock IPOs in Denmark and Sweden. Our primary focus is listing on the non-regulated growth exchanges, including Nasdaq First North Growth Market, Spotlight Stock Market and Nordic Growth Market SME Nordic. We advise and carry out IPOs for companies domiciled in Sweden and Denmark as well as companies from outside Scandinavia.
We also advise on e.g. IPO readiness, price and valuation, IPO guarantees / underwriting, price stabilization, price stabilization, reverse mergers on both the main markets and the growth exchanges, as well as implementing capital injections towards stock exchange listings (pre-IPO financing). In addition, we assist with changing of stock exchange list from e.g. Nasdaq Nordic Main Board to Nasdaq First North.
We are sector agnostic, but have a special focus on life science, renewable energy and green solutions / impact.
SOURCING CAPITAL TO PRIVATE AND PUBLICLY LISTED COMPANIES
We help with advice and capital to companies – both equity financing and debt capital – including corporate loans, green bonds, structured financing, convertible loans, etc. We help both private companies and publicly listed companies, and for the latter both with public issues, including rights offerings and private placements (accelerated book building).
We have extensive experience in structured financing, including convertible loans, PIPEs, equity loans, equity lines of credit, etc.
In addition to assistance in connection with the purchase and sale of companies, we advise companies about M&A rediness. Furthermore, we help companies that have been approached by interested buyers or investors with the process, negotiation, valuation etc.
CERTIFIED ADVISER and MENTOR
Kapital Partner has decades of experience with effective communication to the financial markets – both directly and through the financial press. With our Investor Relations services, especially small and mid cap companies can effectively get a place in the investors' consciousness while saving internal resources for IR. Our IR services include editing / preparing company announcements, shaping the investment case and coordinating marketing activities aimed at the financial markets. IR services are tailored to the needs and wishes of the individual company. Contact Lars Vindahl or Jesper Ilsøe for further information about the possibilities.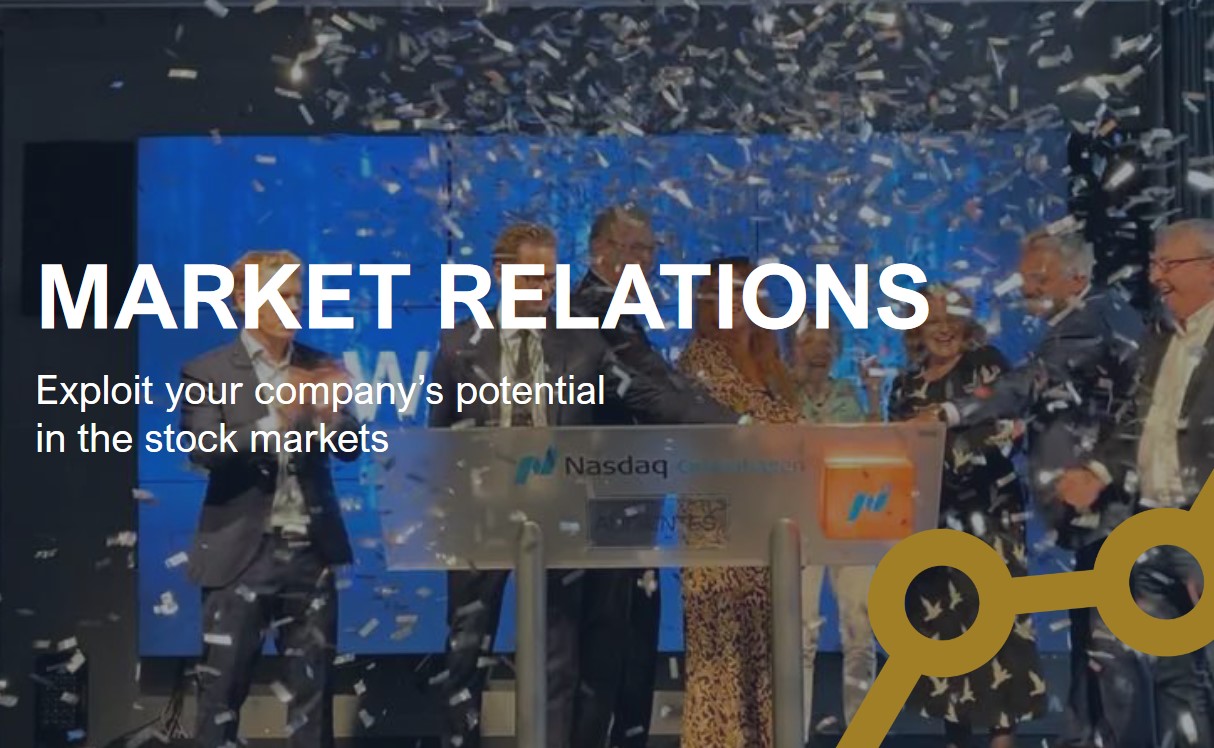 The purpose of our Market Relations services is to increase the liquidity of the company's stock and to achieve a greater degree of awareness in the stock market for the company's investment case. We do this through ongoing, digital, omnichannel marketing of the company's investment case. Click here for a presentation of Market Relations. Contact  Lars Vindahl for further information.